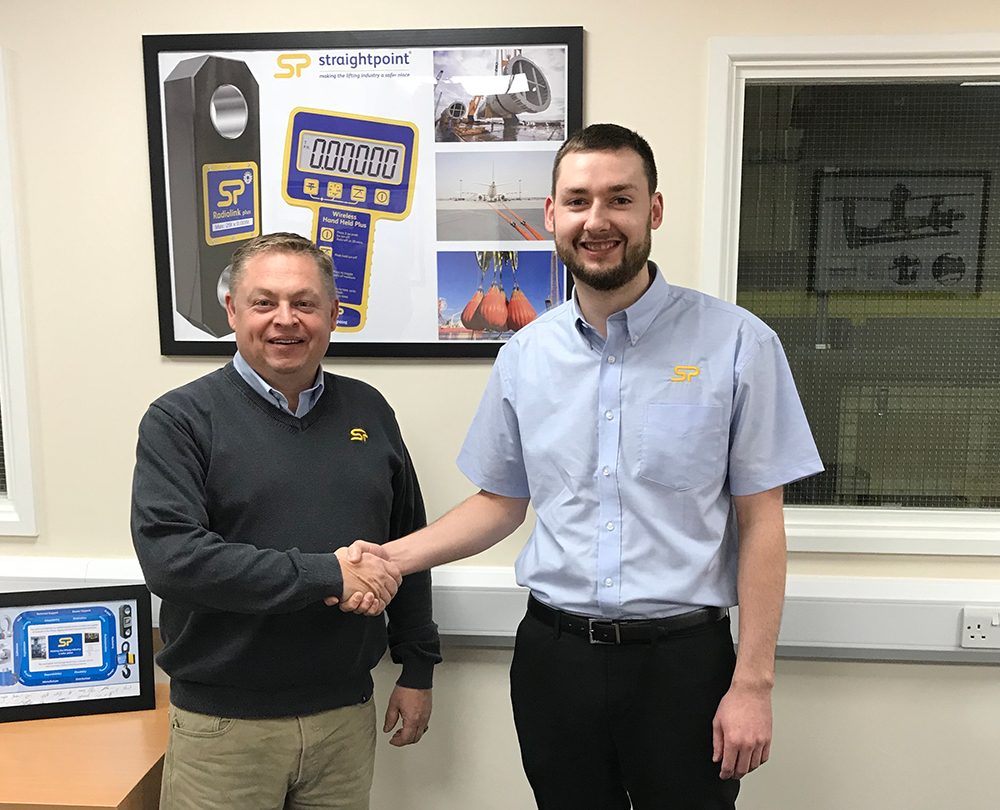 SP Names Scotland-Based Technical Sales Engineer
Straightpoint (SP) has recruited load cell expert Kyle Milne from Scotload; he joins as technical sales engineer based in Aberdeen, Scotland. Milne brings a wealth of relevant experience, having joined the lifting industry as an apprentice almost a decade ago.
Milne, who started his new role on 4 December, will be responsible for selling SP's extensive range of equipment to professionals in the oil and gas, renewables, construction, break bulk, shipping, marine and other industries.
David Ayling, director at SP, said: "Upon hearing of Kyle's availability, I was keen to explore the possibility of him leading our endeavours to raise our profile, and market share, in the important Aberdeen marketplace. I was already familiar with Kyle, having spent time with him at numerous business events over the years, and have been a long-time admirer of his passion for his customers and this industry. He was receptive to my approach and we're both equally excited about the mutual opportunity that's presented itself."
Milne said: "I have been well aware of the SP range for a long time and know the products to be well renowned in industry. However, what became further apparent only upon visiting the headquarters and meeting more representatives was the team spirit and passion behind the operation. It's a people centric environment and everyone was happy to be in the workplace, which was refreshing."
He added: "It was also clearer how the ownership and management structure at the business allows SP to respond to trends and industry demand. Where product enhancement is concerned, it is advantageous to have a culture where game-changing innovations can be brought to market in a timely fashion."
A consequence of this is SP's increasingly diverse range of equipment that Milne is enthused about representing in his market. He pointed to the newly launched Wireless Linear Displacement Transducer (WLDT), which accurately measures displacement or movement; and the Clamp On Line Tensionmeter (or COLT), used for measuring tension on static lines, as two examples.
Milne added: "I was impressed by SP's in-house manufacturing and machining capability to which these innovations can be attributed. We can deliver custom solutions, like load pins, on a tight deadline. I am confident that I can leverage existing expertise on force measurement technology to successfully promote the full range of SP products."
Warming market conditions in Aberdeen also encourages Milne. He said: "We can forget about the oil price returning to $100-a-barrel any time soon, but we're seeing all the indicators of improving conditions, including major projects coming online, redundancy rates slowing and businesses recruiting. Next year looks altogether brighter."
---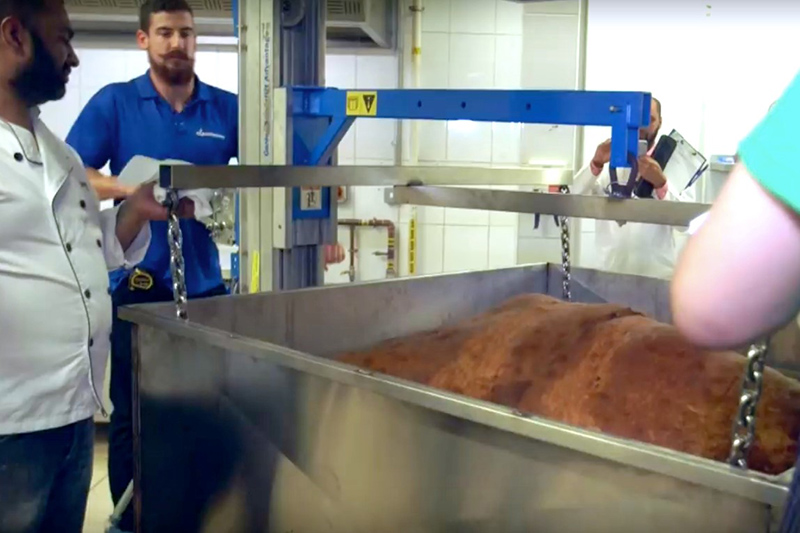 Concord Lifting and SP Combine to Lift, Weigh Record Samosa
Lifting equipment, including a custom below-the-hook rig and load cell, was integral to a successful Guinness World Record attempt by humanitarian charity Muslim Aid, which claimed the title for the largest samosa, weighing in at 153.1kg.
The attempt took place in the summer (August) at a mosque in East London, UK and official adjudicator Pravin Patel was on hand to judge the culinary feat. While the attempt presented a number of obvious challenges, Muslim Aid also had to find a solution for lifting the giant samosa for cooking and provide an accurate means of measurement.
It looked to Concord Lifting Equipment, which supplied a Genie Superlift Advantage, boasting load capacities to 454kg and lifting height to 7.49m. The manually operated material lift is compact and portable, allowing it to be rolled through the mosque doors in an upright position. The system is durable, yet requires no tooling for setup.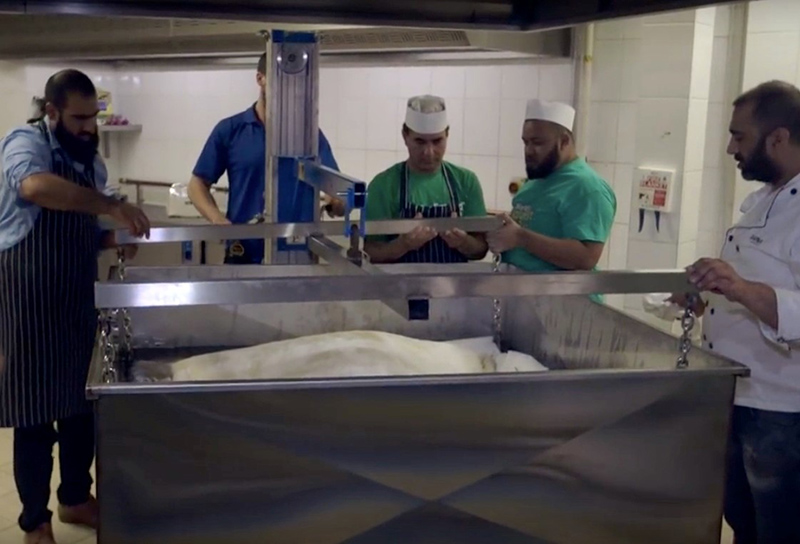 The Superlift combined with a custom fabricated, aluminium lifting frame that housed the samosa for lowering it into hot oil for cooking. The cooking team also had to source a custom deep fat fryer for the attempt as the massive pastry would have been too heavy to fit in a regular, commercially available one. A total of 12 volunteers from Muslim Aid took 15 hours from start to finish to create the super-sized dish.
They broke a record previously set by Bradford College, which cooked up a samosa weighing 110.8kg back in 2012. To record the winning measurement, Concord sourced a Miniweigher plus crane scale from Straightpoint (SP), suited to the application due to its high accuracy, compact size and extreme portability.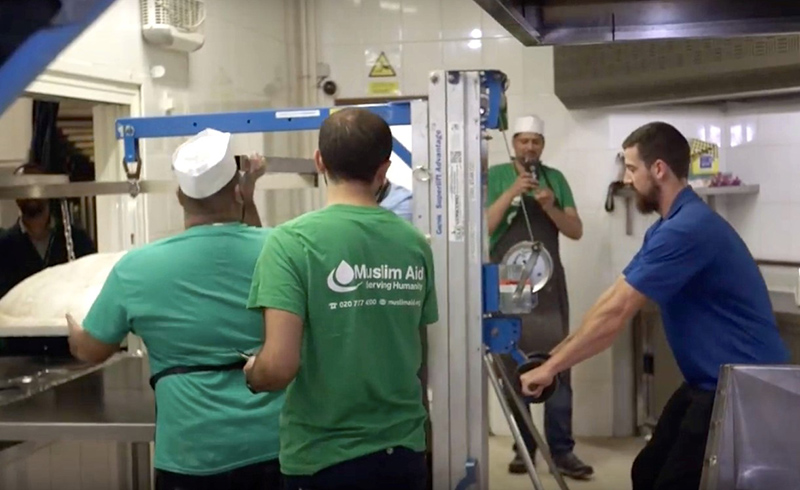 David Mullard, business development manager at SP, said: "Concord approached us about a product that would weigh the samosa on their machine, asking specifically for something about 250kg in capacity to a high level of accuracy—.1 of a kilogram. A Loadlink or Radiolink are more typically suited to higher capacities or bigger machines, so the smaller, more precise option was chosen."
The Miniweigher plus features full function push button controls for tare, choice of units (lbs, kg, kN and tonnes), peak hold, preset tare, audible set-point alarm and an overload counter. Advanced microprocessor-based electronics provide it with high-speed read rates, extreme resistance to industrial level noise and unprecedented stability.
"We wanted to make a larger-than-ever version of this popular food to demonstrate visually how people of the Muslim faith work tirelessly throughout the year, and particularly during Eid, doing charitable acts to support the unfortunate in the community around them and further afield," said Muslim Aid's Zac Hussain.
The samosa consisted of 100kg of potatoes, 25kg of onion, 15kg of peas, plus 44kg of flour and traditional Indian spices.
---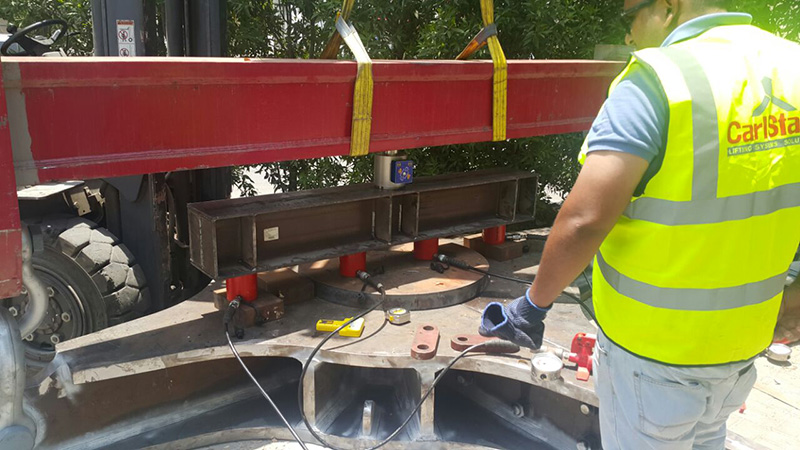 The clamp was flat on the ground, above which the four 50t capacity hydraulic cylinders were positioned along a beam.
SP Compression Load Cell Performs BOP Clamp Load Test
Carl Stahl UAE used four hydraulic cylinders and a wireless compression load cell from Straightpoint (SP) to perform a load test on a blowout preventer (BOP) clamp for an undisclosed client in the Middle East recently.
Carl Stahl, a distributor of SP's range of force measurement technologies and other lifting equipment, accepted a scope of work to plan and execute a 137.5t load test, and report the findings back to the customer. The BOP in its entirety will be used to stop the uncontrolled flow of liquids and gases during well drilling operations. It is essentially a large, high-pressure valve.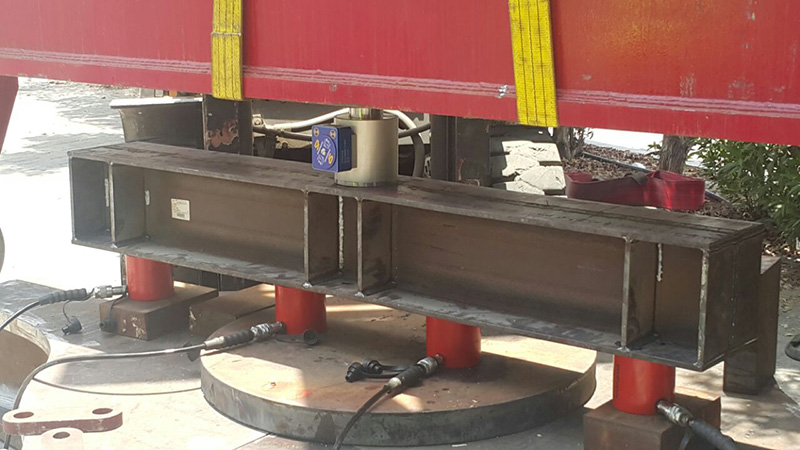 Carl Stahl UAE accepted a scope of work to plan and execute a 137.5t load test.
The clamp was flat on the ground, above which the four 50t capacity hydraulic cylinders were positioned along a beam; above that, the 150t capacity compression load cell was beneath a larger beam rigged to a forklift truck. A shackle at either end of the larger (red) beam connected it to the clamp.
Sinoj Antony, technical manager at Carl Stahl UAE, said: "We used beams to constrain the load within the system and steel plates as footings to spread the load over the surface of the BOP clamp. The forklift was only used to setup the system; the load application was achieved through hydraulic cylinders."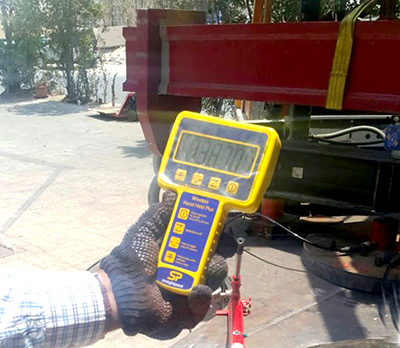 David Ayling, director at SP, added: "In essence, they [Carl Stahl UAE] spread the lift along the bottom beam and transferred it to the load cell. The same principle could be applied to use of our full range of compression load cells up to 500t capacity."
Carl Stahl's three-person team took readings from the load cell on an SP Hand Held Plus, which allowed them to remain a safe distance from the load. Ayling said therein lied the main advantage of utilising this combination of SP equipment.
"We offer wireless software for data logging of static or dynamic tests," he said. "The package produces real time load test certification and even boasts centre of gravity software. We also offer a range of base stations that can be used for signal boosting or connection to third-party equipment, such as a PLC with analogue interfaces."
Carl Stahl's customers have also noted the absence of troublesome and hard to maintain cables. Antony added that maintenance costs are therefore eliminated and pointed to the product's versatility in heavy lift, energy, defence, rigging, shipping and other Middle Eastern marketplaces.
He concluded: "We were happy with the performance of the wireless compression load cell and would utilise it again for such an assignment."
---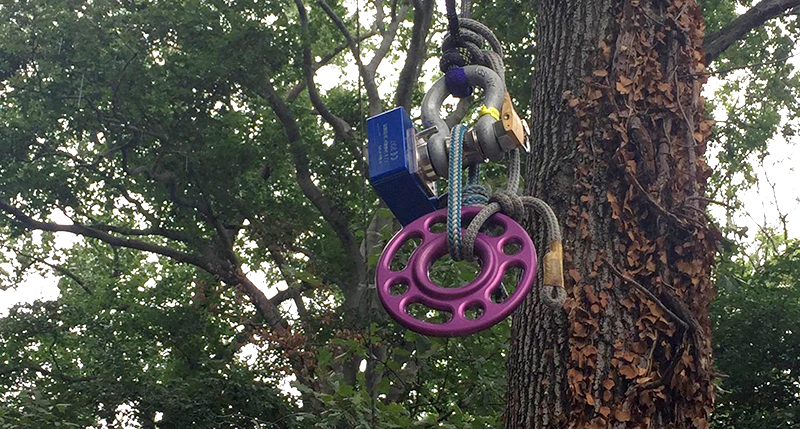 SP Loadshackle Supports Research at Tree Climbing Championship
A 6.5t capacity wireless loadshackle from Straightpoint (SP) was used to measure loads during competitors' ascents at this year's International Tree Climbing Championship (ITCC), which took place 28-30 July at the U.S. National Arboretum in Washington, D.C.
More than 60 of the world's best male and female professional tree climbers representing 13 countries competed for the title of world champion. The International Society of Arboriculture (ISA) provides training and education on safe work practices for tree care providers; especially for those working aloft. Organized by ISA and presented by The Davey Tree Expert Company, the event was free and open to the public.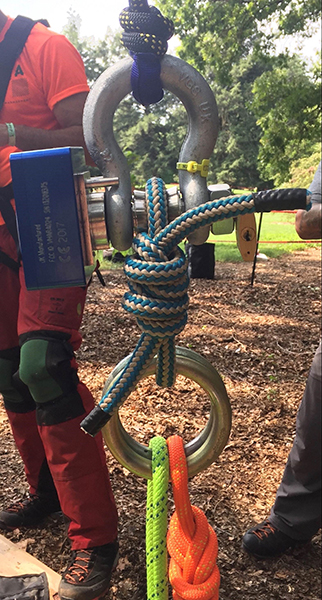 The SP Wireless Loadshackle was used in the Ascent Event, which tests a competitor's ability to efficiently and safely use their selected and approved ascent system. The event assesses competitors' efficiency in attaching the ascent system to the ascent line(s), ascending to the bell, and transferring into a descent system. The actual descent is not part of the event. Points are earned for speed as well as for meeting predetermined safety objectives.
Dr. Brian Kane, Professor of Arboriculture in the Department of Environmental Conservation at the University of Massachusetts in Amherst, explained that the loadshackle was installed between the haul rope and the rigging hub. The ascent lines are attached to an attachment point, controlled by a ground technician using the haul line. Additionally, an overhead belay system is in place and competitors are on belay at all times while aloft.
Kane, who's university position was endowed by the Massachusetts Arborists Association, was collecting data as part of an ongoing research project supported by the TREE Fund, which works to sustain the world's urban forests by providing funding for scientific research, education programs, and scholarships related to arboriculture and urban forestry. He said: "This was a convenient event [to gather the data]. I have volunteered at the championships in the past. This was the first time we have used loadshackles in such a way but we will do so again."
The ITCC showcased arborists in action and helped to educate consumers about professional tree work, and the training and expertise it requires to be carried out safely.
SP's Wireless Loadshackle provides a solution to limited headroom applications. Each loadshackle is proof tested, then equipped with a hard anodized aluminum electronics enclosure. Kane used the loadshackle with the SW-MWLC software package allowing him to perform load tests at a safe distance, reading data on a laptop.
SP's Impact Block, which measures the shock load and weight of branches as they are cut during felling or maintenance, is another product targeted at the arborist sector. The load cell is manufactured in partnership with tree safety equipment pioneer DMM. The aesthetic curves of the Impact Block combine with strength and durability to ensure a rope-friendly surface. Utilizing wireless dynamic load monitoring electronics and strain gauge technology, real time data can be displayed on a handheld controller, tablet or laptop. It eliminates the estimation work that often goes into arborist applications.
---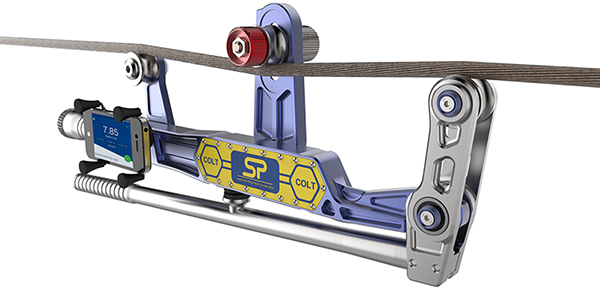 Straightpoint to Take Centre Stage at Speedy Expo
Straightpoint (SP) will showcase its range of force measurement equipment and enter its latest innovation for the Star Products award at the Speedy Expo, which takes place 1-2 November at Exhibition Centre Liverpool's ACC complex in the UK.
Equipment hire firm Speedy staged the event last year on the iconic waterfront and will again combine seminars, an exhibition and networking for suppliers and users of tools, specialist hire equipment, plant and support services. SP will exhibit at Stand F40 in close proximity to the networking zone and Star Products area.
SP will show a full range of equipment, but has chosen one for the award: a new product for measuring tension on static lines—the Clamp On Line Tensionmeter (or COLT)—with a state-of-the-art Bluetooth load monitoring app among a myriad of standout features. Already in Speedy's hire fleet is SP's most popular product, the Radiolink plus digital load indicator, but the COLT will be unfamiliar to many visitors.
David Mullard, business development manager at Straightpoint, said: "This is the first time we've exhibited at the event. In addition to the [aforementioned] products, we'll show a 50t Loadlink plus and smaller 5t links to allow visitors to get hands-on with the equipment. Wireless compression load cells will also be part of the product centric exhibit."
He added: "Speedy is one of our largest UK customers; we have a long-standing relationship over several years. They have for a long time trusted SP Loadlink plus and Radiolink plus dynamometers for safe lifting, LOLER testing, overload prevention and force measurement."
The Radiolink plus—a 50t version will be on show—is primarily used in weighing, load monitoring and load testing applications. Mullard pointed to key features such as the wireless readout, allowing the user to be a safe distance from the load (up to 700m), and IP67 ingress protection against dust and water. Units take standard AA batteries, facilitating a simple change between hires, and are suited to dynamic testing and monitoring multiple lifting points on one display.
The COLT, meanwhile, is a manual, lightweight tool for measuring wire rope tension on guy wires, cable barriers, overhead lines, fall arrest systems and zip lines. Mullard said users benefit from a lack of cables and lauded its Bluetooth capability. "It's the most efficient way to measure wire rope tension in the field, store results and send them back to the office, eliminating the need for paperwork," he added.
The COLT measures tension on wire rope up to 11,000 lbf (lb. force) / 5,000 kgf (kg force) and up to 1 in. / 25mm diameter. It clamps onto pre-tensioned wire ropes, eliminating the need for additional sheaves or tooling, as is the case with alternative solutions.
Mullard said of the state of the UK hire market: "It's buoyant and dynamic, but always in flux. Speedy has great geographic coverage, a young fleet of rental equipment as well as regional lifting centres of excellence. For the largest customers and projects, Speedy manages on-site facilities to provide the best possible levels of support and service. I expect the expo to provide widespread opportunity to refresh knowledge, make connections, meet contacts and learn."
Visit SP at Stand F40.
---