WCOGS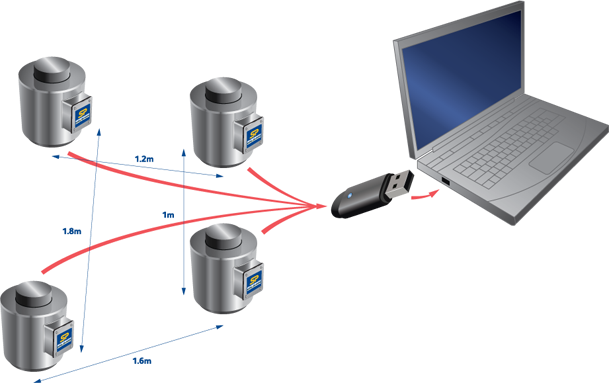 Wireless Centre of Gravity Software - WCOGS
Our wireless centre of gravity system uses telemetry compression loadcells and a simple to use but powerful software package to analyse individual loadcell loads in real-time and print / save a full centre of gravity analysis report.
Between 3-8 loadcells of the same capacity can be used an any one time.

The system combines an extremely intuitive windows based software package and the industry transforming Straightpoint Wireless compression load cells to create a time saving, cost effective and user friendly system for confirmation of mass and the calculation of center of gravity. The system can weigh and calculate center of gravity on objects and structures weighing anywhere from 20 tons to 4000 tons.




Wireless centre of gravity software demonstration
RDCP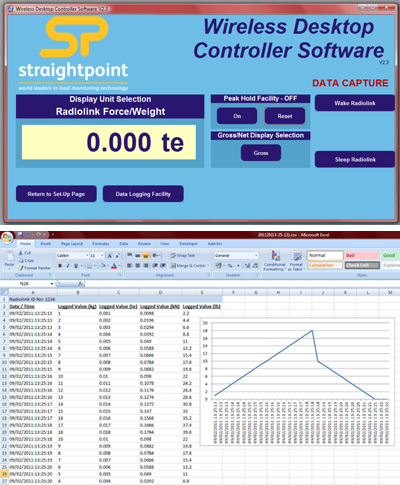 Datalogging Software - RDCP DESKTOP CONTROLLER
The desktop controller datalogging software allows you to view and control (tare, peak hold etc) live loads on the PC screen and log the data into a .CSV file at a speed of up to 10Hz.
You may also record a single reading into a Microsoft Word .doc (useful for test certificates etc) The package comes in two formats:

Wireless Version Part Number: RDCP
For connection to Radiolink plus. Kit comprises:
1 x CD with software and manual.
1 x USB wireless transmit/receive module to plug into PC
Suitable for use on PC's running Windows 98, XP, Vista or Win7.
Cable version available on application.




RDCP Desktop controller software
SW-MWLC

Datalogging Software SW-MWLC

The software for Windows PC's allows up to 24 of our wireless loadcells (Radiolink or Wireless load shackles) to be viewed and logged cable free to a CSV. file. You can configure the number of loadcells (max24) and set extra channels to sum data for record peaks etc.


These configurations can be saved and re-loaded at any time.







Datalogging Software Demonstration