Proof load test for lifting equipment - Proof Test plus software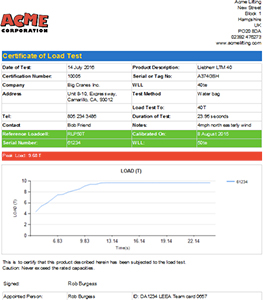 Numerous load testing applications worldwide require a load cell to verify the load applied. From crane testing using water bags to pad eye testing using hydraulic tools, the need to document test procedure and results has never been greater as users of lifting equipment call for more traceability
and audit trails. A proof test is a form of stress test to demonstrate the fitness of a load-bearing structure and is nominally a non-destructive
test. Such a structure is often subjected to loads above that expected in normal use, demonstrating safety and design margin.
This demand has increased such that Straightpoint now offer a new software package designed to connect to any of their wireless load cells - 'Prooftest plus'. This impressive package allows the test engineer to wirelessly, and at a safe distance, monitor a proof load test and automatically create a pass or fail certificate when testing is complete.
This email address is being protected from spambots. You need JavaScript enabled to view it.
This report in PDF format may then be printed, emailed or uploaded to the cloud, resulting in a traceable document for both test engineer and end customer.execution.
More information on Proof Testing in
Straightpoint's Proof Testing White Paper