Towbar Load Cell - Towcell
Straightpoint has developed a 25kN, wireless tension load cell specifically engineered for the emergency services, salvage and 4 x 4 industries.
The Towcell® allows for increased safety and the avoidance of costly overloads by providing real-time monitoring of tensile towing forces during recovery, clearance and salvage efforts. The Towcell® is rugged, lightweight, compact and can be installed, with ease, onto any tow bar, whether it's a standard 52mm or 2" ball or pin assembly and is ready to use in seconds.
Modelled after Straightpoint's best-selling Radiolink plus,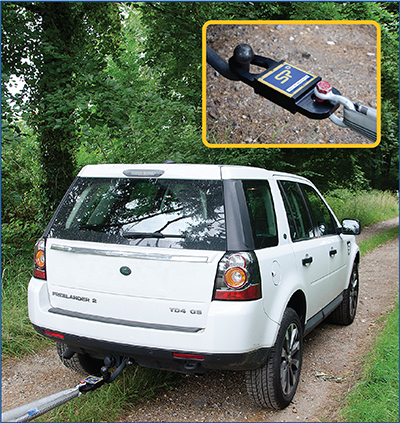 the Towcell® is constructed of high quality aircraft grade aluminium, featuring an advanced internal design structure providing the product with an unrivalled strength to weight ratio, and allowing for the use of a separate internal sealed enclosure. This internal sealed enclosure provides the internal electronic components with IP67/NEMA 6 waterproof environmental protection even with the battery cover plate missing.
This email address is being protected from spambots. You need JavaScript enabled to view it.
Easily sourced AA alkaline batteries offer massive battery life of 1200 hours, and the Towcell® utilises an unbreakable internal antennae. Towcell® loads can be displayed on Straightpoint's rugged and versatile SW-HHP handheld display, or viewed and simultaneously data logged with a Windows tablet via Straightpoint's SW-MWLC software package.
Overview
FEATURES AND BENEFITS

Unique design to fit any standard 2" tow-hitch
Lightweight
90dB Audible overload alarm
Unmatched battery life of 1200hrs
Waterproof IP67/NEMA6
Internal antennae
Compact size
Proprietary 2.4 GHz wireless communication
Design validated by F.E.A.
APPLICATIONS

Vehicle load monitoring
Emergency services
Rescue & Salvage
4 x 4 Events
SUPPLIED WITH THE FOLLOWING AS STANDARD
Proof test certificate
Operator Manual
Carry/Storage Case