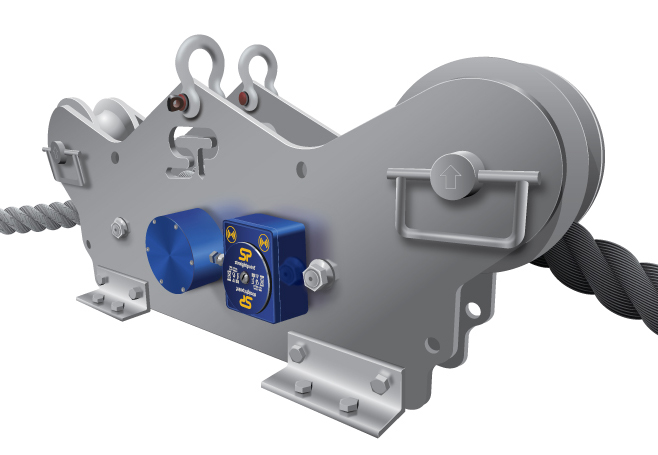 The TIMH range is a Running Line Tensiometer or RLTM built with dockside, marine, offshore, towage and salvage applications in mind. It is particularly useful where there is no anchor or dead end on the line to rig a Straightpoint Radiolink or Loadlink digital dynamometer to measure tension force at speeds up to 20m/min or 65ft/min.
BLUETOOTH OPTION IS AVAILABLE AND SUPPLIED WITH A FREE HHP FOR IOS AND ANDROID
The TIMH is constructed from marine grade stainless steel and is suitable for many wire rope configurations up to 80t and will, as an option, calculate lineout in metres or feet. The TIMH has several mounting points featured in its unique design but if other mounting options are required Straightpoint can provide a custom engineered solution specific to your application.
Available as a wireless or cabled system utilising Straightpoint's HHP range of handheld displays or SW-MWLC software, this impressive Running Line Dynamometer or RLTM is available to ship from stock, to anywhere in the world within days.
FEATURES
Five wheel design improving accuracy
Cabled or wireless options
Easy to install and replace batteries (4 x AA standard Alkaline)
Fully constructed from corrosion resistant stainless steel
IP67/NEMA6 Loadpin
Gravity catches fitted to top sheave pins make wire rope installation quick and simple
Software available to data log and monitor or analogue output
BENEFITS
Large range of capacities to 150t and wire rope diameters up to 89mm/3 1/2"
Line in/out, distance and speed
Maintenance free heavy duty needle bearings
APPLICATIONS
Dockside
Marine
Offshore
Towage and Salvage
Single point mooring
Spread mooring
Tenson mooring
Dynamic positioning
Wireline Services
WARRANTY & ASSURANCE
2 year warranty
Design validated by F.E.A.
SUPPLIED WITH THE FOLLOWING AS STANDARD
Proof test certificate
Operator Manual
Carry/Storage Crate
Specifications/Technical Data



Wireless Approvals




Federal Communications Commission
FCC: VHARA24
Industry Canada
IC: 7224A-RA24
Japan Certification
ID: 205-170296
Korea Certification
ID:R-CRM-1ME-RA24





TIMH specifications

Part Number

MTIMH10T

TIMH10T

TIMH25T

TIMH56T

TIMH80T

TIMH150T

Capacity
10te
10te
25te
56te
80te
150te
22,000lb
22,000lb
55,000lb
123,200lb
176,000lb
330,000lbs
Resolution
0.01te
0.01te
0.02te
0.05te
0.1te
0.2te
20lb
20lb
50lb
100lb
200lb
500lbs
Wire rope Ø mm
4-19mm
13-19mm
16-26mm
28-38mm
40-52mm
52-89mm
5/32"-3/4"
1/2'' - 3/4''
5/8'' - 1''
1 1/8'' - 1 1/2''
1 5/8'' - 2''
2" - 3 1/2"
Weight
9kg
76kg
230kg
20lbs
168lbs
506lbs
Battery Type
Wireless version 4x AA Lithium batteries
Battery Life
Wireless version 1200hrs
Operating Temp
-10 to +50 °C
14 to 122 °F
Accuracy
±2% full scale
Range
Wireless version 700m (100m if Bluetooth)
Wireless version 2300 ft (328ft if Bluetooth)
Protection
IP67
Max Speed
20m per minute
65 feet per minute
Dimension A
422mm
880mm
1250mm
16.62"
34.65''
49.21"
Dimension B
330mm
700mm
1050mm
13"
27.55''
41.33"
Dimension C
152mm
330mm
416mm
5.98"
12.99''
16.37"
Dimension D
36mm
110mm
153mm
14"
4.33''
6.02"