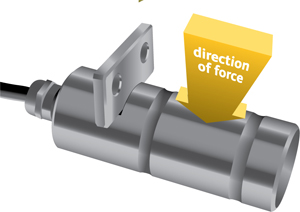 Available ATEX and IECEx approved to Ex ia II T4 Ga for use in zones 0, 1 and 2 hazardous environments (gas) and is designed for the on and offshore oil and gas, chemical and other industries with challenging hazardous areas.
The Straightpoint hazardous area range of Load Measurement Pins (LMP's) are designed for use in applications where an end of line load cell cannot be used an integrated solution is required.
Often a customised solution they are manufactured from high tensile stainless steel and are normally supplied complete with an anti-rotation plate as a wireless solution with range of up to 700m or 2300 feet.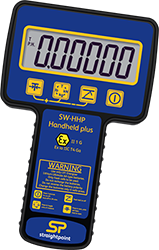 Load data is transmitted wirelessly utilising the latest in IEEE 802.15.4 (2.4 GHz) technology providing safe, high integrity, error free transmission of both static weight and dynamic load to our SW-HHP-ATEX handheld controller for use in hazardous area or wireless Windows PC data logging software package in the safe area. Our wireless data logging software allows for simultaneous control, display and real time data logging of up to 100 Straightpoint telemetry load cells. Logged data is captured in a .csv file format and opens in MS Excel providing easy visual presentation, analysis of logged data, and simple test certificate generation.
This latest range of Loadpins utilise easily sourced Energizer® Ultimate Lithium AA Batteries and features advanced circuitry designed to protect the unit from damage associated with incorrectly installed batteries. This advanced circuitry extends battery life eliminates issues associated with rechargeable battery pack charging, failure and replacement.
Note: Please advise cable configuration on order - Radial or Axial Pin exit. ATEX is only available as a wireless option. If you require an ATEX Wireless Load pin to a particular size and design, download our Load pin Questionnaire and return, POA.
This email address is being protected from spambots. You need JavaScript enabled to view it.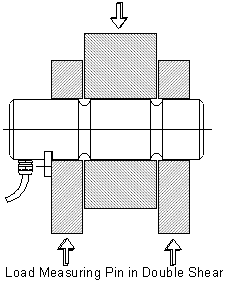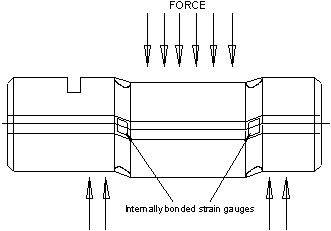 Load Pin General Description
A load measuring pin senses the force applied across it, via strain gauges installed within a small bore through the centre of the pin. Two grooves are machined into the outer circumference of the pin to define the shear planes, which are located between the forces being measured.
Load Pin Environmental Protection
As the instrumented area of the load pin is totally contained within a small central bore, the load pin sensor is inherently waterproof. Manufactured from special stainless steels, fitted with welded or `O' ring sealed end caps and with special attention to the signal cable glanding, a very high operating reliability can be guaranteed even for load pins operating underwater.
Load Pin Typical Locations
If a pin exists within a defined load path or can be fitted to experience a force, then a Straightpoint Load Pin can be installed to monitor that load. The sketches below show typical locations for load pins.



Load Pin Locking Systems
A load-measuring pin needs to be securely locked into position in order to fix its orientation with respect to its associated assembly. This needs to be fixed, both in the axial and rotation modes, to ensure that accurate and repeatable results are obtained from the system.
A standard load pin is designed to sense the force in one direction only. A force at right angles to that force will produce a zero output from the sensor.

Load Pin Cable & Connector Arrangements
The signal cable can normally exit from the load pin to suit the installation and space requirements. Emphasis should be placed on the protection of the cabling system from accidental damage during installation and use. A plug and socket breakdown can be incorporated at the load pin if required. Extra protection can be provided over the standard polyurethane sheathed cable in the form of hydraulic hose. This provides excellent protection with the advantage of associated fittings being readily available.




Requires connection to Straightpoint's Handheld plus (HHP), Desktop Controller data logging software (DCP10M) or External Amplifier range (SA-3420) that can be configured to provide outputs such as 4-20mA, 0-10v, 0-5v for PLC or data logger integration.
Please note if you require a Loadpin to a particular size and design download our loadpin questionnaire and return POA
Overview
APPLICATIONS
Hazardous areas
Offshore oil and gas
Chemical plants
Design validated by F.E.A.
SUPPLIED WITH THE FOLLOWING AS STANDARD
Proof test certificate
Operator Manual
Carry/Storage Case
Certificate references:
LP-ATEX
IECEx SIR 16.0041X
Sira 16ATEX2108X
SW-HHP ATEX
IECEx SIR 15.0072X
Sira 15ATEX2196X