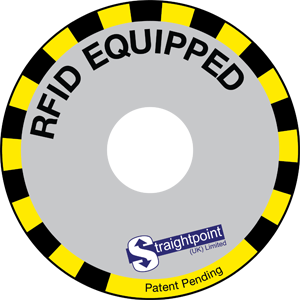 Straightpoint (UK) Ltd First Loadcell Company to Include RFID Tagging in Products
Straightpoint (UK) Limited, world leaders in load monitoring technology, is the first loadcell company to offer radio-frequency identification (RFID) tagging incorporated within its products, sold to companies all around the world. The company has just introduced the tag to all its 'link' style loadcell products, allowing valuable inspection records to be wirelessly transferred from the product onto a secure database on the company's computer. The process check stores a QUIC-CHECK ID number, product type, in service date, date of last recorded inspection and the status of the product at the last recorded inspection, making records more accurate and saving time compared to completing manual records.
Clients buying the enhanced Straightpoint loadcell products incorporating the RFID tagging can then use the Crosby handheld device and free software program to transfer the data from the product quickly, safely and accurately onto their computer system, providing the user a quick reference to inspection information on the specific product being inspected.
Director of Straightpoint (UK) Ltd, David Ayling enthused 'the RFID tag system reduces the total inspection process time up to 65% and eliminates errors from handwritten or manual typed inspection reports. It also gives companies the ability to quickly reference all records and can be used in conjunction with other Crosby RFID tagged products companies might be using, such as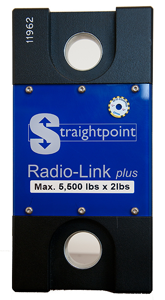 slings or shackles, making the process more efficient and cost-effective. In addition, we've kept the loadcell products with the RFID tag at the same price.'
David Ayling continues 'We've also been busy working on enhancing one of our top-selling products, which is now finalised – the Radiolink Plus product has been recently upgraded to have 1600 hours of battery life (previously it was 850 hours) due to new battery technology and its clever 'sleep' mode when not in use, so there's no need to charge it every night. The product is proving very popular with on and offshore-related businesses. We have recently supplied several of these new models for use on dock-side cranes due to its extended battery time, remote control operation and the ability to safely hang it from the hook of a crane to accurately test the weight of containers before being loaded onto boats heading for offshore rigs.'
Crosby Europe's sales and marketing director Richard Oldknow, adds 'I welcome the steps taken by Straightpoint to harness the power of RFID and further strengthen Crosby's Quic Check system as a valuable inspection tool."
Hampshire-based Straightpoint (UK) Limited supplies crane scales as well as tension and compression loadcells to organisations in the UK and its 22 global distributors, collectively covering every global continent.