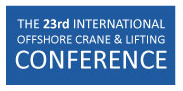 Straightpoint are exhibiting at this event in Aberdeen - 24-27 April. STAND 22
The Norwegian Society of Lifting Technology (NSLT) & The Offshore Mechanical Handling Equipment Committee (OMHEC) invite you to the for The 23rd International Offshore Cranes and Lifting Conference in Aberdeen, Scotland.
In a global perspective the most important meeting place for the offshore lifting and material handling industry. 18 nations and a total of 180 delegates were represented at the conference in 2017.
Don't miss this opportunity to meet colleagues in the offshore crane and lifting business, to participate in discussions related to offshore cranes, lifting and material handling, and see an exhibition of new services, goods and technology!