Shackle Load Cells | Cable and Wireless/Telemetry - In Stock | ATEX/IECEx available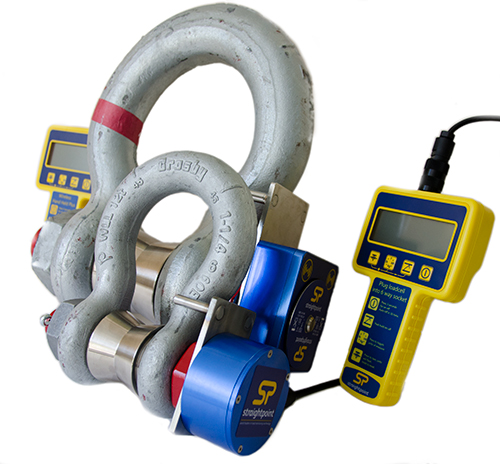 Straightpoint is an international company that distributes high quality, advanced technology
shackle load cell
sensors and systems to many countries across the world – and is a specialist supplier to the lifting and rigging industries.
Integrated load shackle systems are installed in some of the harshest and extreme conditions to measure tensile (or tension) forces such as those exerted from loads generated in heavy and other plant lifting, rigging, pulling and weighing systems.

Straightpoint industrial shackle load is ideal for applications with low headroom such as event and stage rigging, under hook weighing and water bag weight testing.

Shackle load cell sensors and systems are used for atmospheric force measurement in climates as diverse as severe heat and arid conditions in deserts, humid and wet environments in parts of Asia and the intense cold of polar conditions such as Alaska, the Arctic and Antarctic (north and south poles).


Shackle Load Cells from 3.25t to over 500t
In Stock
2 Year Warranty
Free technical support


Straightpoint Load Shackle Range
All our
load cells, tension, compression and shackles
are in stock and available for purchase from our offices UK and USA as well as from our
partners worldwide, click here to find your local office
.
Call or email the Straightpoint sales team who are at hand to help with any enquiry:
UK: +44(0)2392 484491
USA: (805) 246-1462
Houston Sales: 713-955-2655
Minneapolis Sales: 612-808-8969
This email address is being protected from spambots. You need JavaScript enabled to view it.
Or complete our
Enquiry Form
for a fast response.
Radio and wireless load sensor technologies
Shackle load cell products used in load systems require connection to appropriate instrumentation, depending on whether Straightpoint instrumentation is connected via cabled, wireless and radio technologies; above-ground, below-ground or in deep sea / other submersible environments.
Designed to monitor and measure in all industrial-scale load systems, heavy duty, medium-sized and smaller scale lifting and tensile force applications, shackle force sensors are available as RFID-tagged loadcells for integration into the Crosby 'quic-check' RFID system.
Resultant telemetry linking enables force measurement results output via radio handheld displays over a safe distance. Straightpoint wireless load shackles currently work over a 700-metre / 2300 feet radius.