APPLICATIONS
Lifting (ports, logistics, and construction)
Anchoring systems
Anchor cables
Towing cablesConstruction situations where cables are used to support a structure like a communications tower or bridge
Subsea pull/support lines
Dead ends on cranes
Measure motion of ram

Sockets shown above and below in the example images were kindly provided by De Haan (https://www.dehaan-se.com/en/)
The customisation options provided are so broad that Straightpoint (SP) are also able to produce customised load pins for even 'Utility Wedge' and 'Open Spelter' type sockets.These types of sockets are often used in conjunction with several wire rope setups including:
Boom pendants
Guy lines
Raising lines
Sail boat Backstays
Lifting bridles
Usually made from cast steel, these sockets are designed to be attachment points for wire ropes made of steel. When attached correctly, they are regarded as the strongest fitting types you can use to match the maximum load capacity of the cable. They are also beneficial as an on-site attachment that allows the user to make link connections efficiently. It is usually recommended that an anti-rotation wire rope is used when connecting it to a socket in order to maintain stability of the load whilst attached to the socket. The wire rope's termination broom is usually held into place inside the spelter socket's cone with a strong hardening gel. When terminating into a wedge socket, the end of the wire rope is threaded through the cone, bent back around the internal wedge and then gripped into place via a seizing clip.
This email address is being protected from spambots. You need JavaScript enabled to view it.
SP load pins are designed to replace the bolt and cotter pin that are usually used to attach the spelter to a separate line or load.
For flexibility to match a wide variety of requirements, we are able to provide either wireless/radio telemetry (up to 700m remote monitoring) or cabled load pin types (for subsea applications). Both types can be fitted easily and without further modification to the socket. The connection to our hand held monitoring displays (HHP/SW-HHP) is also very simple saving you more time to ensure a safe lift/pull.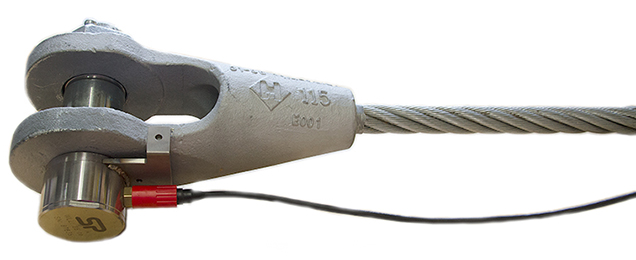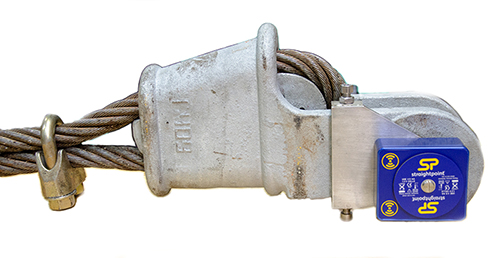 Cabled Load Pin (above)
Ideal for use in subsea applications e.g. pulling loads and for monitoring forces on support lines.
Wireless Load Pin (above)
Ideal for monitoring loads from up to 700m/2300feet away.