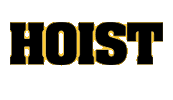 News
UK firm makes US move
07 October 2009
UK industrial load monitoring technology firm Straightpoint (UK) Ltd is expanding its export business to take advantage of the weak sterling and rising value of exports, including establishing a US base in California.
Straightpoint's US office will serve North and South America and offer services related to all of the company's industrial weighing products. It will target the oil, gas, aerospace and shipping industries.
"Straightpoint (UK) Ltd recognised the potential for the product range in the Western Hemisphere, and we are very excited that our team in the States are now building the basis of a strong distribution network," said Richard Sharpe, director of Straightpoint Inc.
Straightpoint said it has seen its export business rise from 25% to 50% over the last six years, and said the current value of sterling has allowed it to expand its export channels and add to its worldwide distribution network.
"The weak pound and exchange rate has seen companies from abroad become more interested in the UK market," said David Ayling, managing director of Straightpoint (UK) Ltd. "We pride ourselves on being able to deal with a range of different requirements and needs from customers from a variety of different industries.
"Whether it is custom-built machinery to go to Germany, equipment for Britney Spears' lighting rig or items to test crowd control barriers, we always have the same aim; to provide the best possible service for our customers, which will now be replicated by our US office," he said.
----------------------------------------------------------------------------------------------------------------------------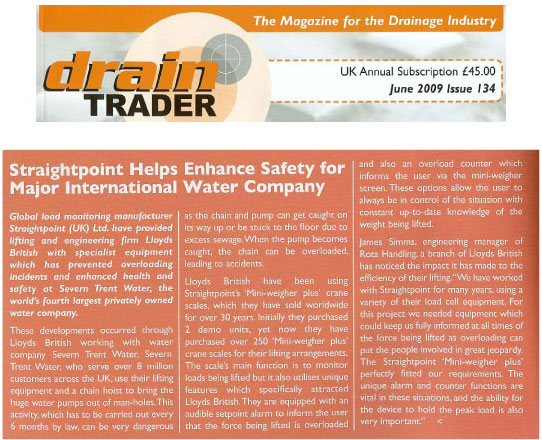 -------------------------------------------------------------------------------------------------------------------------------------------------------------------------


Building on the success of the last four years, LiftEx 2009 is looking to shake off the cold economic chills, and introduce some warmth for its exhibitors and visitors. The exhibition takes place at roughly the same time each year, this years being held on the 20th of November 2009.
-----------------------------------------------------------------------------------------------------------------------------------------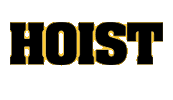 Crane scales hold back the tide
Monday, May 11, 2009
Crane scales have allowed lifting and engineering firms Lloyds British and Severn Trent Water to safely lift large water pumps through manholes, as part of the water company's regular maintenance operations.
Straightpoint (UK)'s mini weigher plus scales have been employed by Lloyds British and Severn Trent Water, the world's fourth largest privately-owned water company, for the lifts, which must be carried out every six months by law.
The water pumps can pose a number of difficulties during the lift operation, including getting caught on the way up or becoming stuck to the floor due to excess sewage. This can cause the chain hoist to overload, resulting in accidents.
Mini weigher plus crane scales are available with capacities from 100kg to 5t, and are equipped with an audible alarm and an overload counter to maximise operator safety. Lloyds British has purchased over 250 of the crane scales.
"For this project we needed equipment which could keep us fully informed at all times of the force being lifted as overloading can put the people involved in great jeopardy," said James Simms, engineering manager at Rota Handling, a branch of Lloyds British.
-------------------------------------------------------
9th April 2009
Straightpoint Helps Enhance Safety For
Major International Water Company
Global load monitoring manufacturer Straightpoint (UK) Ltd. have provided lifting and
engineering firm Lloyds British with specialist equipment which has prevented
overloading incidents and enhanced health and safety at Severn Trent Water, the
world's fourth largest privately owned water company Lloyds British have been using Straightpoint's 'Mini-weigher plus' crane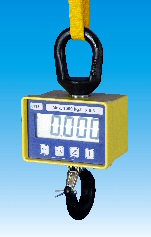 scales, which they have sold worldwide for over 30 years. Initially they purchased 2 demo units, yet now they have purchased over 250 'Mini-weigher plus' crane scales for their lifting arrangements. The scales main function is to monitor loads being lifted but it also utilises unique features which specifically attracted Lloyds British. They are equipped with an audible setpoint alarm to inform the user that the force being lifted is
overloaded and also an overload counter which informs the user via the mini-weigher screen. These options allow the user to always be in control of the situation with constant up-to-date knowledge of the weight being lifted. These developments occurred through Lloyds British working with water company Severn Trent Water. Severn Trent Water, who serve over 8 million customers across the the UK, use their lifting equipment and a chain hoist to bring the huge water pumps out
of man-holes. This activity, which has to be carried out every 6 months by law, can be very dangerous as the chain and pump can get caught on its way up or be stuck to the floor due to excess sewage. When the pump becomes caught, the chain can be overloaded, leading to accidents.
James Simms, engineering manager of Rota Handling, a branch of Lloyds British has noticed the impact it has made to the efficiency of their lifting. "We have worked with Straightpoint for many years, using a variety of their load cell equipment. For this project we needed equipment which could keep us fully informed at all times of the force being lifted as overloading can put the people involved in great jeopardy. The Straightpoint 'Mini-weigher plus' perfectly fitted our requirements. The unique alarm and
counter functions are vital in these situations, and the ability for the device to hold the
peak load is also very important."
Straightpoint (UK) Limited are world leaders in the design and manufacture of force
measurement, load monitoring and suspended weighing load cells up to 1,000 tonnes


-------------------------------------------------------
Caterpillar UK Case Study
Background on Caterpillar
Caterpillar is the world's largest manufacturer of construction and mining equipment,
diesel and natural gas engines, and industrial gas turbines. The global company has a
major presence in the UK, employing over 100,000 people. Straightpoint (UK) Ltd
became involved with Caterpillar's Building Construction Products Division, officially
formed in 2000. The division, based in Leicester, is made of assembly and engineering
departments and is responsible for the assembly of small construction machines,
typically used on building and construction sites. They produce around 14,000 machine
units per year.

Straightpoint's Challenge

The engineering department of the Building Construction Products Division at Caterpillar
UK are responsible for various machinery processes and projects. In late 2008 they
began work on a Load Tip Forces project. This related to the development of their
machine tippers. With tipper vehicles it is vital that the load can be monitored due to the
quick change in weight and balance as the vehicle tips the load. For this project,
Caterpillar UK required a product which was able to measure the force of the machine
tipper yet also contain more than one output to enable alternative methods of capturing data.
When assessing their options Caterpillar UK needed a product which was reliable,
functional, competitively priced and able to include features tailored to their needs.
The solution James Garner, the H & HS Design Engineer within the Building Construction Products
Division at Caterpillar UK was recommended Straightpoint load cell equipment by
another company. James gave Straightpoint a call and they were able to meet the exact
specifications which Caterpillar required. Straightpoint provided a quick quote
turnaround and offered unique functions specifically requested by Caterpillar UK. They
required their single load cell to have 2 outputs, 1 for a computer and 1 for an external
analogue data logger. Caterpillar had previously gone to 3 other load monitoring
companies with this request and had either been offered alternative solutions or a price
far exceeding their budget. Straightpoint were able to develop a bespoke single load cell
device with the 2 unique outputs at a realistic cost. This product met Caterpillar's
expectations perfectly and the product was delivered to them in January 2009.
Why they chose Straightpoint
James Garner said "Caterpillar chose Straightpoint because they were the only company
to meet every single one of our requirements. As soon as we contacted them, they
provided an excellent service and their reputation lived up to the recommendation we
received. The delivery was on time, the installation and service support was first class
and the product has done everything we've asked for. This has led to improved
efficiency within our day to day operations as it allows us more flexibility and versatility
when carrying out future project testing. It completely changes our approach to how we
test loads and forces."
-------------------------------------------------------

Straightpoint UK Finalists for Exporter of The Year!
Even during straitened times, the cream of Hampshire's business community still found time to celebrate success in style at The News' annual Business Excellence Awards.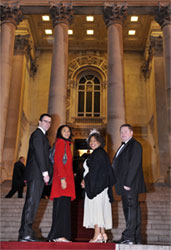 From the red-carpet entry up the steps of Portsmouth's Guildhall, to the presentation of the Lifetime Achievement Award at the close of the night, around 500 business leaders, employees and corporate guests mingled and mulled over a successful year, and what the future holds for the region.
All those in attendance had one thing in common - their businesses had enjoyed a rollicking 2008, and they were willing to meet the challenge of the coming year head-on.
-----------------------------------------------------------------------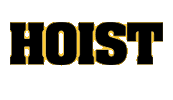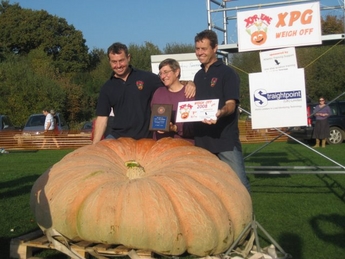 Crane scales weigh
pumpkin contest
22 October 2008
Load monitoring company Straightpoint (UK) Ltd. supplied a portable 1t crane scale to weigh Europe's heaviest pumpkin, filmed by the BBC's (British Broadcasting Corporation) 'The One Show'.
The pumpkin weighed in at 1,457lbs, smashing the previous European record of 1,341lbs.
The pumpkin weigh-off was part of the annual Pumpkin Festival, held on Saturday 11 October at the Royal Victoria Country Park in Southampton, UK.
David Ayling, director, Straightpoint, said: "One minute I am talking to global distributers of our products; the next minute we're loaning a 'mini weigher plus' with crane scales to a charity pumpkin weigh-off festival in Southampton!"
-----------------------------------------------------------------------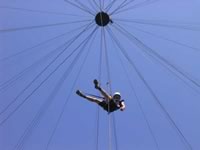 09/10/2008
Extreme Location Rigging makes use of load cell equipment from Strightpoint UKHampshire-based load monitoring company Straightpoint (UK) Limited were called when Pinewood Film Studios-based stunt rigging company Extreme Location Rigging headed off to China to test new crowd control barriers. Straightpoint (UK) Limited worked through the night to provide Extreme Location Rigging with specialist load cell equipment just in time for their flight.
Straightpoint (UK) Limited has provided safety testing equipment to Extreme Location Rigging for several years, including for stunt rigging on film sets. Their equipment has even been used in the recent James Bond film 'Quantum of Solace' for the aerial shots within the aeroplane fight sequence, as well as on films 'Prince of Persia' and 'Wolfman'.
Owner and MD of Extreme Locations Rigging Ltd stated 'We gave Straightpoint a short lead time on ordering the equipment for our China trip. We use their load cell systems to ensure that equipment is totally safe, whether it's for on-set stunts or testing safety equipment. We knew that we could rely on Straightpoint to deliver as we've used their service for several years.'
------------------------------------------------------------------


Weigh up there?
Testing and verification of crane scales. Weigh up there
Straightpoint crane scales
The Challenge
Straightpoint manufacture a successful range of crane scales. They already have a maintenance and calibration service for 'load links' for use with cranes but they wanted to be able to test and verify these instruments for legal purposes. Their testing machines form part of their comprehensive repair and maintenance facility, but they did not know whether they could provide the metrological accuracy required. In addition, they wanted to know if their range of crane scales were suitable for use in legally controlled applications. Meeting the legal and accuracy requirements would give them access to a wider customer base which would lead to increased sales.


The Solution
NWML reviewed the Straightpoint crane scales against the relevant legal requirements and identified that they would, on paper, be suitable for use in legally controlled applications. "A review of their facilities was also conducted and, although they already had their force-measuring systems calibrated using UKAS accredited services, they did not meet the relevant performance requirements. "NWML has subsequently given advice as to how they can develop and improve their test facilities. Based on the advice given, Straightpoint are making plans to develop their test facilities to enable them to satisfy the relevant requirements. This will enable them to access the European market, thus increasing sales.
"NWML delivered the skills and advice necessary to ensure the success of our test rig.
We really appreciated the support they provided." David Ayling, Sales Director, Straight point (UK) Ltd

-----------------------------------------------------------------------

Pfeifer sells Straightpoint kit
16 June 2008
Straightpoint UK has signed long-term contract to supply crane scales, including the Loadlink, Radiolink and Miniweigher for German wire rope firm Pfeifer.
Pfeifer is also active in selling cable structures, lifting equipment, attachment and lashing equipment and inspection services.
-----------------------------------------------------------------------
March 2008
We are pleased to announce that we have signed a long term agreement to manufacture a full range of products for Pfeifer Seil- und Hebetechnik GmbH.
PFEIFER are one of the leading European companies for rope, anchoring and lifting systems.
The group consists of many companies both in Germany and abroad. PFEIFER headquarters are located in Memmingen, Germany.
Their business activity focuses on six areas:

Steel wire ropes
Cable Structures
Building Technology
Lifting Equipment
Attachment and Lashing Equipment
Inspection Service and Technical Seminars
Sales
They have 25 branches and subsidiaries in Germany.
PFEIFER employ more than 1000 people. Turnover exceeds EUR 180m p.a.