Want to measure loads safely and accurately?

Straightpoint - making the lifting industry a safer place.
HOME | PRODUCTS | REPAIR | PRICES | HIRE | DOWNLOADS | DISTRIBUTORS
January 2016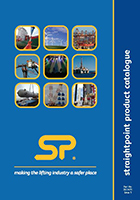 STRAIGHTPOINT 2016 CATALOGUE

Straightpoint kick off 2016 with a new catalogue brimming with new products and extra features / functionality. Order your hard copy or you can download our PDF. versions here:
OR
STRAIGHTPOINT LOAD PIN IN LOW HEADROOM LIFTING APPLICATION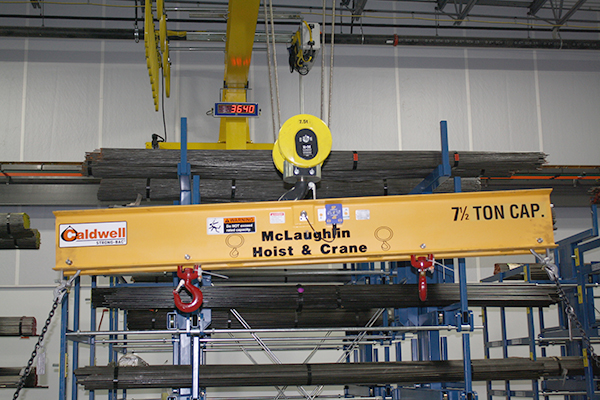 Low Headroom Below-the-Hook System Utilizes Straightpoint Wireless Load Pin

St. Louis, Missouri-based industrial lifting equipment provider McLaughlin Hoist & Crane has incorporated a Straightpoint Inc. load pin into a low headroom lifting beam application at a facility that machines components from metal bar.
The 7.5 ton capacity lifting beam, manufactured by The Caldwell Group, is utilized below the hook of an overhead crane at the company's receiving and storage yard. The low headroom design allows it to handle material over and onto top racks of a multi-tier storage system.
McLaughlin frequently supplies Straightpoint's force measurement, load monitoring and suspended weighing load cell equipment, including its most popular product, the Radiolink Plus, and its wireless load shackle. In this case, the load pin monitors the weight of raw bar stock when unloading trucks and picking material to send onto the machining floor.
A scoreboard display was mounted on the structure of the crane to allow the operator to monitor the load without having to hold an additional handheld display unit. Communication between the load pin and the scoreboard is wireless, so no additional cords are required.
John McLaughlin, manager, McLaughlin Hoist & Crane, said: "A tare circuit was wired into the crane controls to zero out the loads on the lifting device. Adjustable chain slings were utilized with the lifting device so that the operator could connect to the bar stock in a choker hitch and shorten the slings when needed to go atop or over the storage racks."
He added: "We had originally considered using an inline load monitor, such as the Radiolink Plus. However, there was limited vertical space between the maximum hook height and the customer's steel storage racks, which pointed us towards a low headroom solution. By going with a low headroom lifting beam and substituting the standard bail pin with a load pin, we were able to meet the customer's headroom requirements while also providing them with a load monitor."
The overhead crane, an integral part of this new facility, was sourced from a national supplier by the building contractor. Whilst a common process, it did not allow for a thorough evaluation of the application and the outcome was an insufficient hook height, requiring this unique low headroom solution. Mr. McLaughlin devised the below-the-hook solution; he worked with John Molidor, general manager, Straightpoint Inc. and Caldwell to design and manufacture the final product, which has been successfully integrated into the customer's receiving and storage yard.
McLaughlin Hoist & Crane offers complete new crane systems, below-the-hook devices and auxiliary components to a range of industries including steel, concrete, paper, manufacturing, machine shops, heavy-equipment repair facilities and recycling centers. Its service area covers Missouri and surrounding states but sells and ships products nationwide and even internationally.
Straightpoint's load pins are built to exacting standards, are suitable for use in exposed situations and can be supplied for use subsea. The range of load cells is proof loaded to 150% of the normal rated load. Contact This email address is being protected from spambots. You need JavaScript enabled to view it. for product information.
TWO NEW PERSONNEL JOIN THE STRAIGHTPOINT TEAM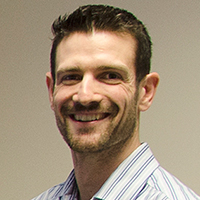 Dave Mullard business development manager, as one of the industry's leading force measurement, load monitoring and suspended weighing load cell professionals completed his move from a fellow lifting equipment manufacturer this week.
Mullard, who joined Hampshire, UK-based Straightpoint on 18 January, is keen to further advance a blossoming career in the below-the-hook sector, while spearheading his new company's continued growth in Europe, Africa and Russia.
He said: "I have enjoyed the challenges presented by the lifting industry in relation to weighing technologies and have spent the last three years in particular developing a thorough understanding of the marketplace. Straightpoint continued to emerge as the market leader and I am grateful for the opportunity to align my goals with such an innovative, dynamic business." This email address is being protected from spambots. You need JavaScript enabled to view it.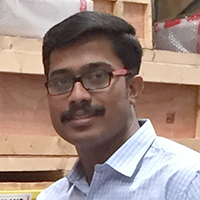 Sarath Chandran project engineer as the force measurement, load monitoring and suspended weighing load cell manufacturer continues to invest in electronics and telecommunications expertise.
Chandran joins a team led by Roshan Divakaran, design engineer, who recently oversaw development of an ATEX and IECEx version of Straightpoint's most popular product, the Radiolink Plus wireless load cell, which was launched at the turn of the year. The pair worked together in their native India and the reunion further equips the Hampshire, UK-based firm to pioneer technological advancement in its sector.
Divakaran said: "Bringing a wealth of experience from the electronics field, Sarath can assist us in all new, non-standard projects and play a key role in effectively troubleshooting our range of equipment when the need arises. I also expect him to assist the sales team in preparation of quotations and proposals. Additionally, Sarath will apply his knowledge to special projects."
STRAIGHTPOINT HEAVY LIFT INVENTORY

Straightpoint's heavy lift inventory, all items are IN STOCK and ready to ship.

RLP250T - Wireless load cell Radiolink plus
RLP300T - Wireless load cell Radiolink plus
WLS500T - Wireless Loadshackle
NI300T or WNI300T - Cabled or Wireless Compression load cell
NI500T or WNI500T - Cabled or Wireless Compression load cell


All are supplied with calibration and proof test certificate.

Please note our heavy lift inventory is updated on a regular basis with more products in stock.

Visit Straightpoint's blog for a lighthearted view on the lifting, rigging and loadcell industries, updated regularly by Mr Loadlink. www.mrloadlink.com
CONTACT US
Website:
Contact us:
t. UK
t. USA Camarillo


t. USA Houston

www.straightpoint.com
This email address is being protected from spambots. You need JavaScript enabled to view it.
+44(0)2392 484491 Head Office, Repairs, Calibrations and Sales
(805) 246-1462 Head Office, Repairs, Calibration and Sales


713-367-9745 Sales Office